Jean Louis David
new look whenever
you need it
Jean Louis David is one of the most recognisable hairdresser networks in the world. With over a thousand salons around the world it's also the #1 in Europe and #2 globally.

Welcoming, listening, caring… the Jean Louis David experience is of pure relaxation.
contribution
ux, ui, development, support, maintenance
Problem
booking as
in reality
Jean Louis David salons work mostly on scheduled appointments.

To set up a visit their customers needed to find the location of the nearest salon, their phone number, give them a call, and set up a date over the phone.

The booking experience was far away from the salon experience the brand strives to deliver.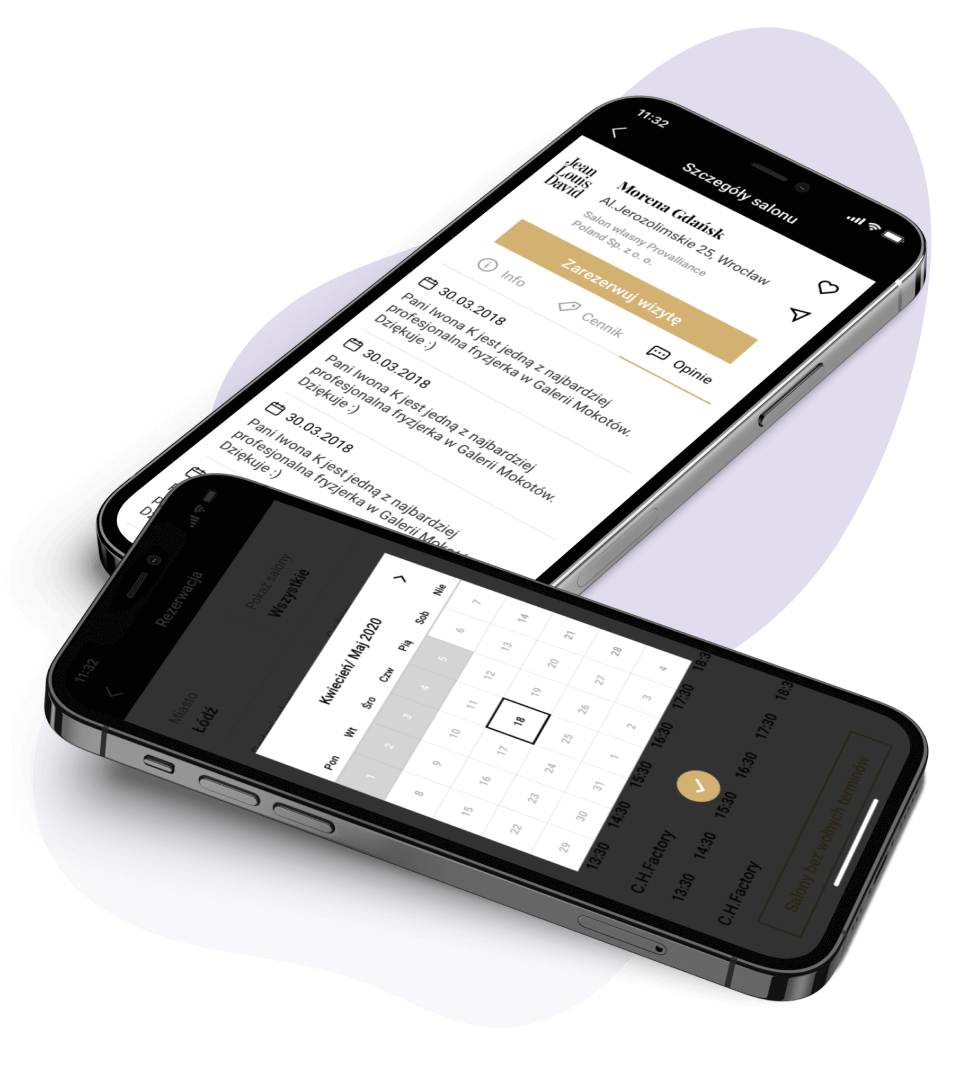 Solution
bring brand into
the mobile world
Our task was to bring Jean Louis David into the mobile world with an application for their smartphone-using customers.

The key functionalities we were asked to devise were: quick and handy appointment scheduling, salon and service-finder, time and date booking.

We knew from the onset that the client would also like other functionalities in the near future. Starting with functions further boosting customer experience: adding products and services to favourites, loyalty points; and others for up-sale, such as buying vouchers for current or future use.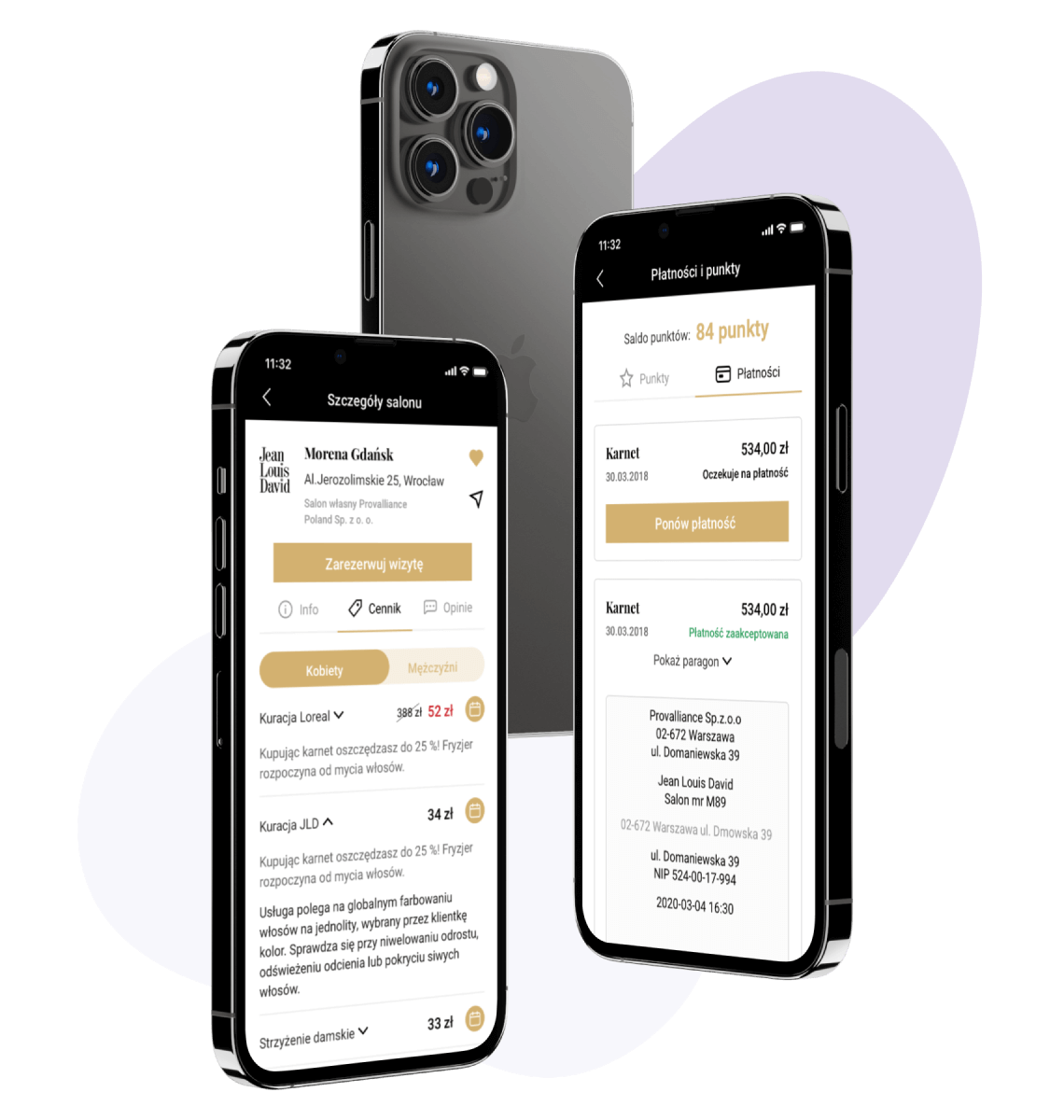 Outcome
the number of users
proves usability
Over 402,000 users have installed the application, and it is used by over 1700 JLD clients every day.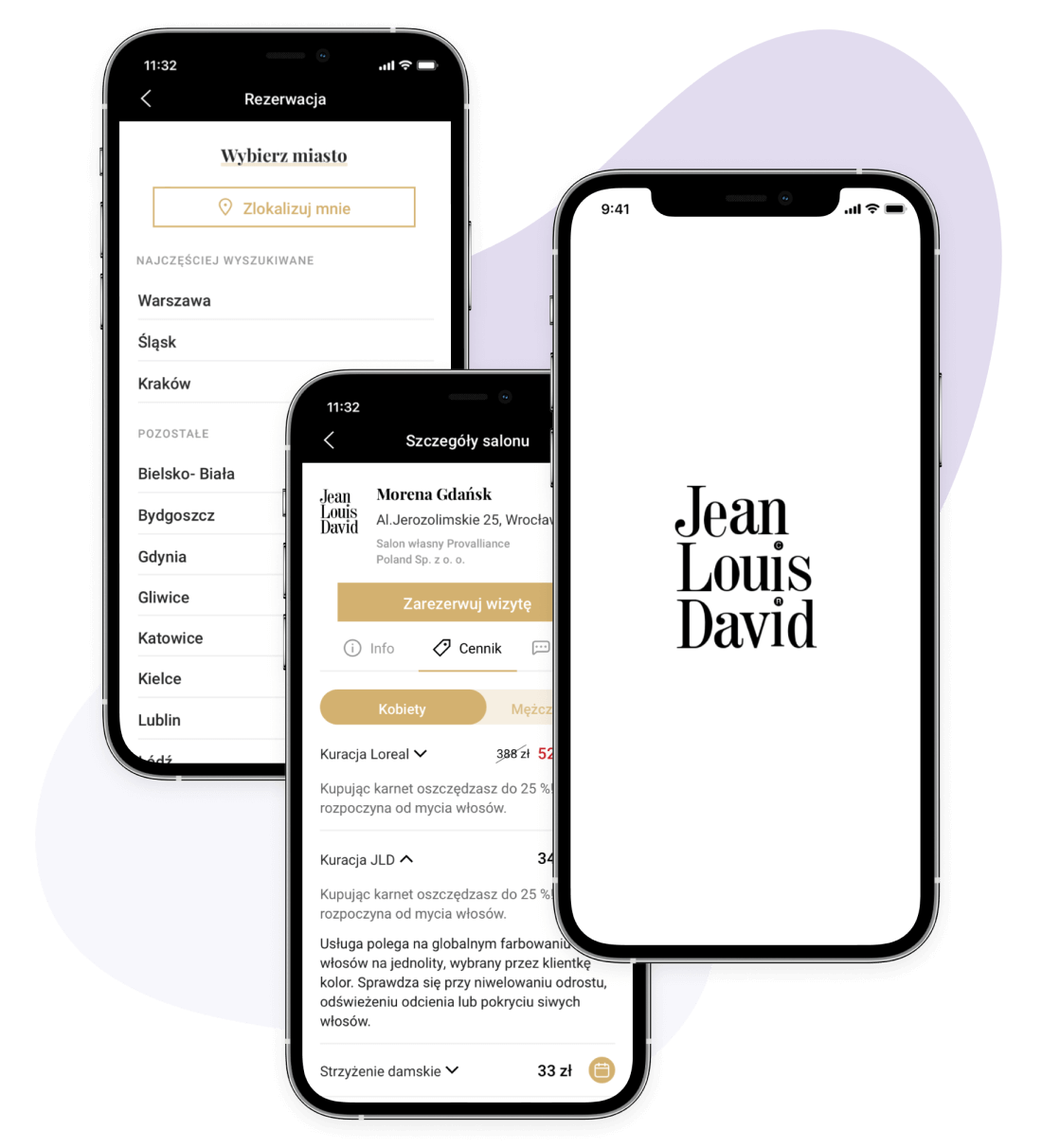 Our Contribution
what we have done
for this project
To prep the ground for the large and complex project we started with a deep dive into the various business needs. We knew we'd have to coordinate and integrate with other teams working simultaneously on various other issues.
Our design process started with a simple question - how would you like to have booking experience? From that moment on, our team began building an experience that would help streamline the process, while at the same time being presented in the best possible way with additional modules added in the future. Our ultimate goal was to create a premium experience for a premium brand so that the customer feels that their new hairstyle begins in the app, upon entering the salon is a continuation of that experience, not something entirely different.
We developed the first mobile application in the history of Jean Louis David. The app puts forward the shortest booking route and essentially learns from the customer with each interaction. It draws on a multitude of data sources, such as stock inventories or cash register systems, and integrates with several APIs.
We added new additional functions further boosting the customer experience: adding products and services to favourites, loyalty points; and others for upselling, such as purchasing vouchers for the present or for later use in the future.