LOT Polish Airlines
LOT
inspires travel
LOT Polish Airlines is primarily about people. The Polish airline is created by a team of experts and specialists from varying fields and full of positive energy. From the cabin crews and pilots to qualified crews of dedicated staff on the ground, LOT on a daily basis cares for passengers, its overwhelming passion and commitment are second to none.

Together with them, we have built a travel-inspiring element of this one of the most famous and appreciated Polish brands in the world.
contribution
research, ux, ui, development
Problem
not knowing
where to go
Many potential travellers don't know where to go because they don't know the destination.

The challenge was to find a solution that would facilitate the search for inspiration for travel on over 120 regular connections to nearly 100 airports around the world.
Solution
website inspired
by travellers
For LOT Polish Airlines, we have built a website inspired by travellers from scratch. The website - in addition to information on departures and arrivals - offers additional functionalities, such as information about various cultures, tourist attractions or culinary specialties specific to a given destination.

Practical information, a guide with recommendations and the possibility of booking have become a great help for travellers.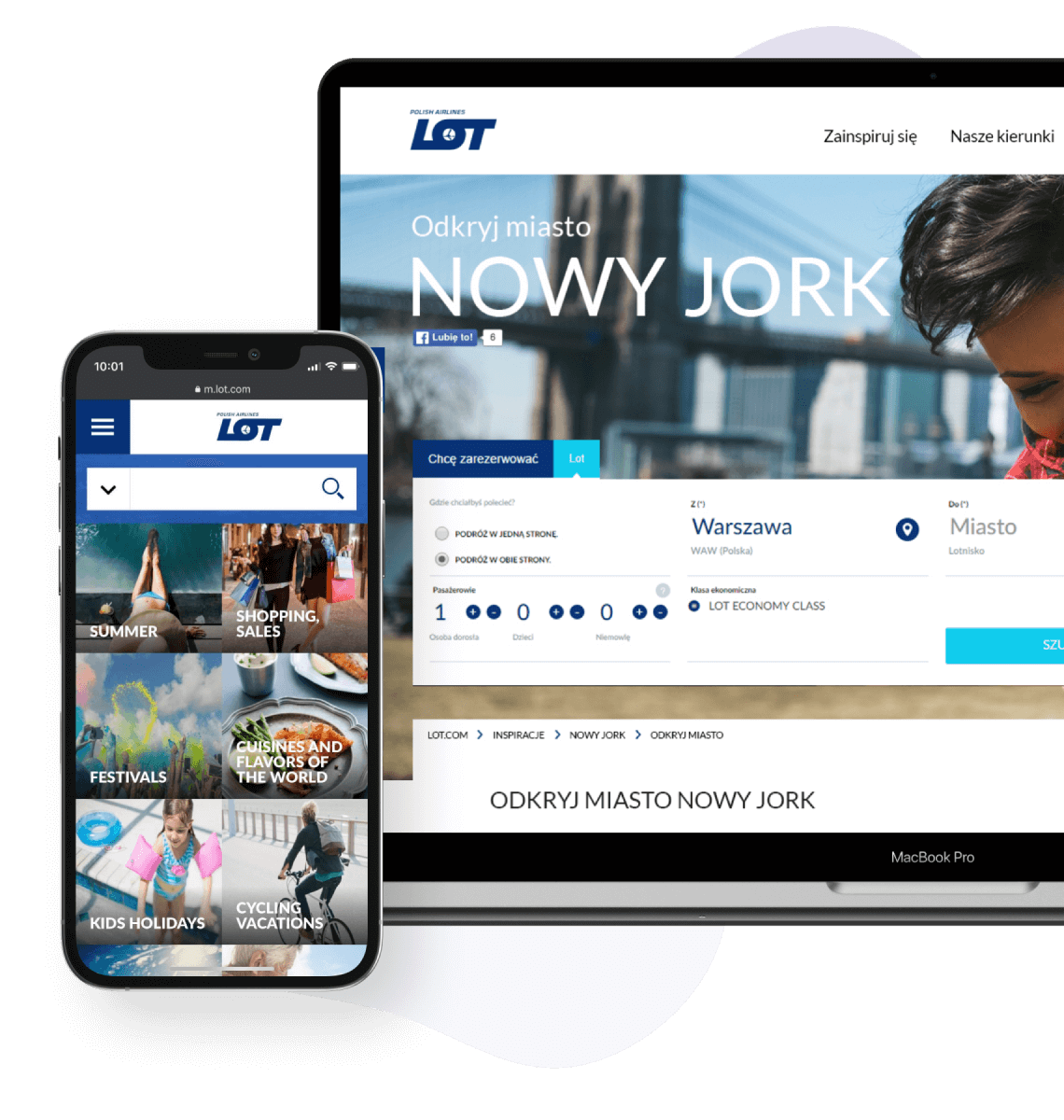 Our Contribution
what we have done
for this project
The main task of the analysis was to build an information architecture based on air connections and events at each destination.
Designing a website for one of the largest and oldest European airlines is a huge challenge. We not only had the task of simplifying the booking process, but also had to present a lot of additional infrastructure around it. From the very beginning, we decided that the "heart" of the website is booking - making it faster and more navigable and ultimately making it more user friendly. With that in mind, we added extra services - helpful guides, an easily accessible help desk, tips and tricks to make your journey even more enjoyable. All this had to be flawlessly presented on both desktops and mobile devices. The result was a website that not only helped customers with flight bookings, but was also very engaging, helping LOT to promote and sell more of its services.
Development of a web portal integrated with a CMS system that allows you to add new destinations and events.