e-Learning Platform
online education
for football PROs
Sports federations have a wealth of knowledge to aggregate and transfer within their organisations and their entire sports environments worldwide. The international organisations are the primary source of information for all the continental and then, national organisations. They, in turn, source the information to their regional organisations and associations.
This way all kinds of knowledge within a sport is passed to that it reaches the coaches, athletes, fans and sports commentators.
contribution
research – including process mapping, UX, UI, web design, web development
Problem
How to ensure the uniformity of
knowledge and decision-making
Aggregating the knowledge, transferring it, and making it available to everybody interested is one of the problems every organisation large enough has. The same applies to sports organisations as well as multinationals. All of them require a uniform level of information that will allow for constant decisions to be make across all the processes and locations.
When there's no uniform knowledge or it's scattered, it's difficult to distribute and follow the changes, updates and newest developments. Information kept in pdf documents is difficult to study and can make it impossible to export specific passages of interest for further use. If organisations don't make sure they're making the information easily available and understandable, they can't expect it to be put into practise.
If an organisation can't test the level of knowledge after distribution, there's no way to tell that it's been received, processed, understood - and can be put into practise.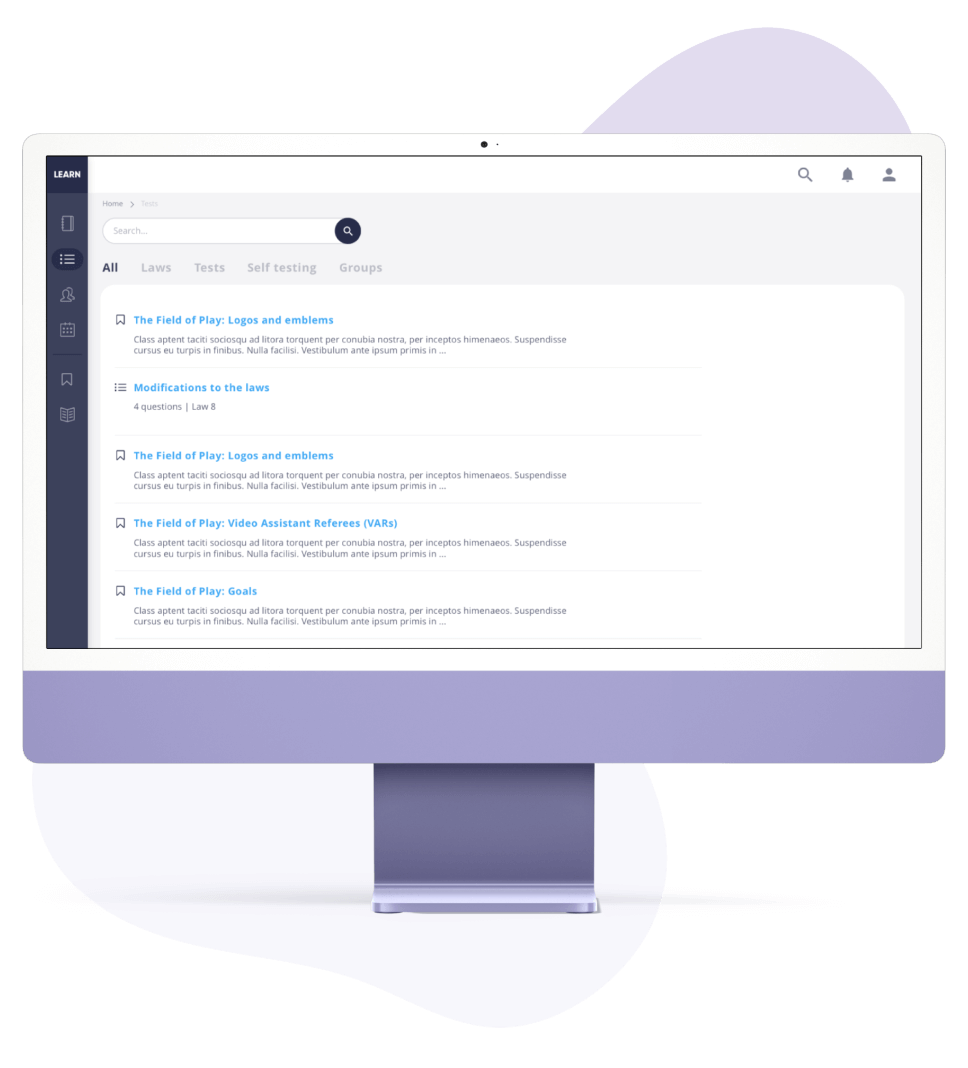 Solution
research, process mapping,
design, development, launch
After analysing and understanding the biggest problems of knowledge management and transfer within international sports organisations, we mapped out a global knowledge hub that would enable aggregating, managing, sharing and testing the knowledge of a sports organisation on a dedicated e-learning platform.
Our task was to design, develop and launch a digital platform to manage any area of expertise, including - but not limited to – educating current staff on new developments, regulations, organisation culture and codes of conduct, onboarding new hires, self –testing for match officials or up-dating contractors. In our implementation we focused on the referees in football.
We created an e-learning platform with built-in reminders and notifications makes it easy to distribute and follow updates in real-time. The information is easy to access and export specific topics, passages into one handy document makes it possible for learners to study, self-test and pass knowledge on.
The platforms is a single place to keep both official and national rules and regulations, with different permissions to access, means that everyone interested can access the knowledge they need.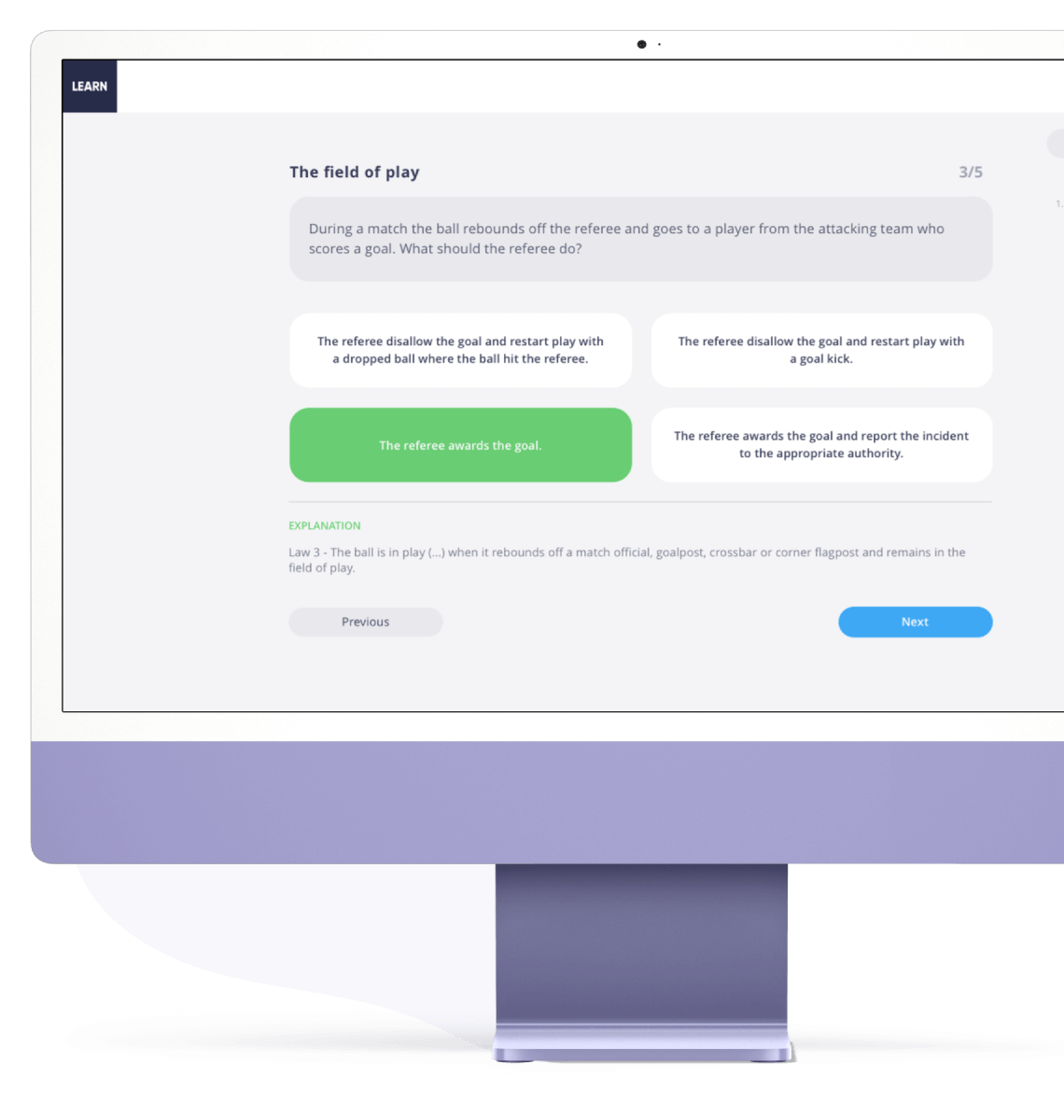 Outcome
global knowledge manageable
easy to access from a single place
What you can expect from implementing a single e-learning platform is uniform knowledge within your federation and national organisations. Everybody who needs to be informed and then put the knowledge into practise will have it much easier this way.
You can run timely and successful onboarding of contractors and volunteers for the biggest events.
And thanks to knowing the test results, you can become aware of the areas of knowledge that need improvement and the general level of understanding of each topic, which will result in how the knowledge is put into practice.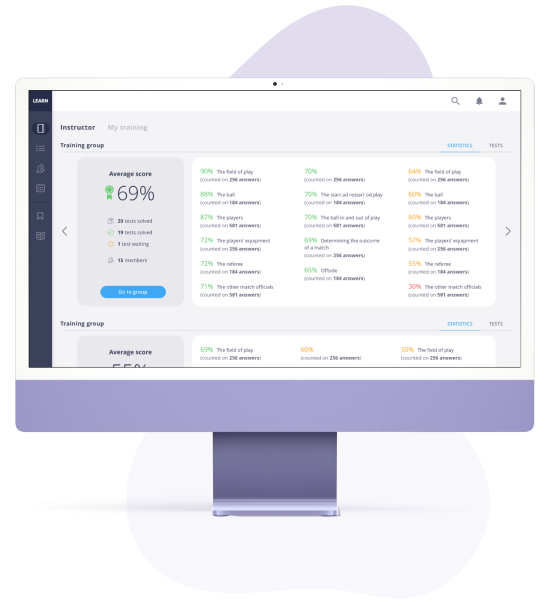 Our Contribution
what we have done
for this project
Before we could design the UX we first had to understand the structure of an international sports organisations' knowledge. We had to map out the process with all the knowledge-holders, instructors and groups of interest to be trained, tested and self-tested.
The UX had to be friendly for users of different technological competence. Our primary task was to make the digital platform easy to use and manage, while providing the sports organisation with an easy way to manage their knowledge, the referee instructors with simple ways to set up trainings and tests for the participants. The learners had to have an easy access to their courses and tests – along with the ability to generate tests for self-testing.
We developed mechanisms for knowledge management, cross-referencing, testing, self-testing and test generation for football referees using a single dedicated web platform.